Before you start keywording…
get an idea what kind of keywords you already have (or don't have)

Before starting to extend the keywords in your image collection, it's best to make an evaluation of all the keywords that are currently in your collection, in that way you can decide for yourself if you are pleased with it or if you want more (much more!) keywords delivered by TAGGER.BIZ

TEST YOUR CURRENT KEYWORDS FOR FREE! (ONLY ON WINDOWS, sorry Mac-Users!)
With the famous EXIFTOOL and MSACCESS you can test the keywords that are currently in your images collection.
You can then decide afterwards if you are content with your current keywords.

This simple MSAccess Database taggerbiz.accdb offers also a utility to look for duplicate images. Note: TaggerBiz can handle duplicate images without any problem.

You can find the filenames with this tool easily. With a viewer tool you can additionaly watch the results as images:
I recommend this tool:
Faststone Viewer Really amazing!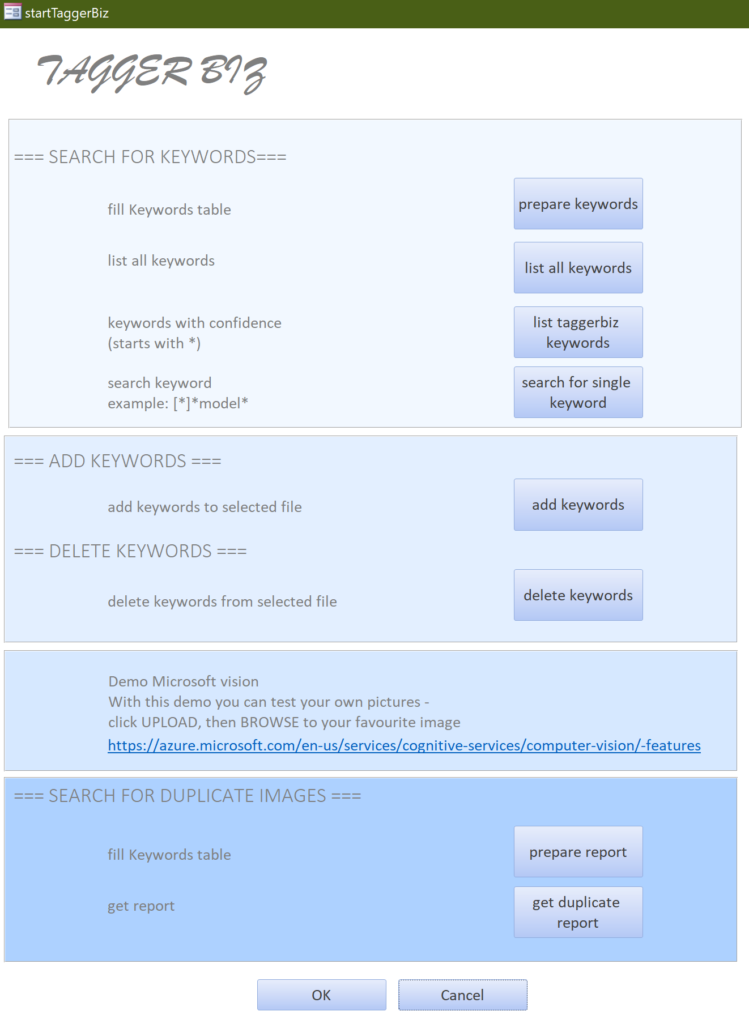 SOFTWARE DOWNLOAD FOR MSACCESS UTILITIES
https://wsb.leijnse.info/taggerbiz.html
If you need help, don't hesitate to contact ed@leijnse.info